How To Dress Well with Your Long Earrings?
your accessories say a lot about you as accessories may seem minor and unimportant when getting glammed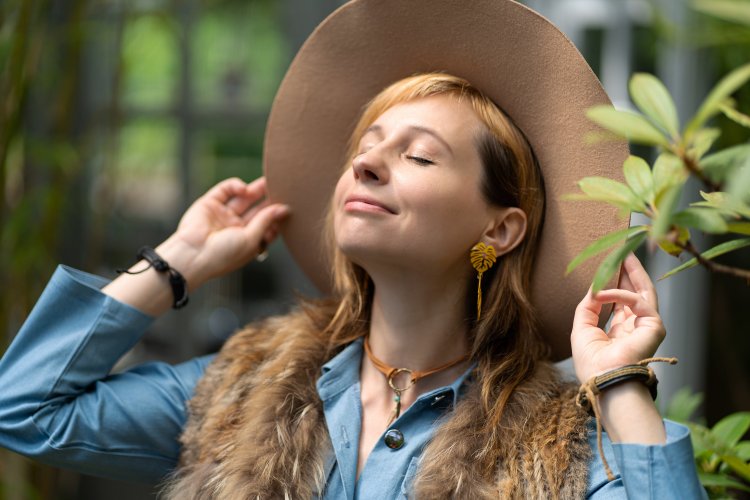 How To Dress Well with Your Long Earrings
Do you want to naturally attract all the eyes when you enter the room? Do you want to make a statement? We have a perfect idea to make you the center of attention. You can look bold and classy and make an impression even by sitting in the corner of the room.
Apart from your dress, your accessories say a lot about you as accessories may seem minor and unimportant when getting glammed. But to the one looking, these little things say a lot about your personality; it makes an impression of how important are the little things in your life. So we recommend you don't go low when accessorizing yourself.
Is over-accessorizing a thing? Yes, creating a balance is the key here. Balancing your outfit and the deets is quite essential. You are a human, not a cake. We are here to help you balance your look and look absolutely fab. Here's how you can style long chunky statement earrings with different outfits.
Cluster earrings and a black outfit
It said, "when in doubt, wear black", so I recommend when you don't understand how to carry your favorite long cluster earrings, pull it off with a black top and any jeans bottom; the bottom can vary according to the event. If it's a formal evening, you can wear a white or black pencil skirt; if a movie night with your girls, then straight or bell-bottom jeans would do.
Checkered dress/shirt and long earrings
Whether or not black & white, a checkered dress would look tremendous with long earrings, a mini neon clutch, and high heels; it would definitely give you the main character vibes. Also, if you're going to a casual date or keeping it lowkey, you can wear a checkered top with a casual bottom black, preferably a center parting sleek bun, and a mini shoulder bag. Trust me; your friends will ask you where you got the inspo for such a fab look. And your whole Instagram would go gaga over your new clicks.
Casual school/college look
Who said you couldn't wear anything fancy to the school/college? In fact, it's the perfect place to show off your outfit of the day. You can pair long statement earrings with a crop top with casual jeans or a skirt. The top can be basic as I mentioned fashion is harmonizing, you can choose a white, black or any single coloured top.
Leather Jacket and long earrings? Of course
I would definitely take inspiration from a girl who carries this outfit out. A black leather jacket over a dress or black pants with long earrings would kill. It's not common, but you can be the first to make it a trend. And don't forget to wear red lipstick as the cherry on top. Trust me; it's a main character kind of outfit.
About a fancy evening
If a fancy evening is coming up and you have the perfect fairytale dress ready but are confused about accessories, don't worry, I gotcha covered. If your dress is long and single coloured, well, get a clutch in the colour opposite (in the colour wheel) to the colour of your dress and flaunt it with some clustered and long statement earrings.
Even if you are going for a short-printed dress, a plain miny clutch and heels plus long statement earrings will make you the star of the night.
Long earrings combined with ripped jeans and a basic lace top
A single-coloured lace top, jeans and long earrings, when they come together, would make a perfect outfit of the day. It's casual yet, chick. So this summer, go for it. Step out of your style and try something trendy and different. Different is beautiful, and so are you.
Conclusion
In conclusion, you don't have to think if a trend is for your body or skin colour or not; you will look as beautiful as much as you think you will. You can fit in any style. Just be comfortable and confident about it.